Posted on
By Misty Blue
Posted in dildos, does this spark joy, kon mari, konmari, marie kondo, misty blue, new years resolutions, organizing, pleasure chest, sex toy clean up, sex toys, toy box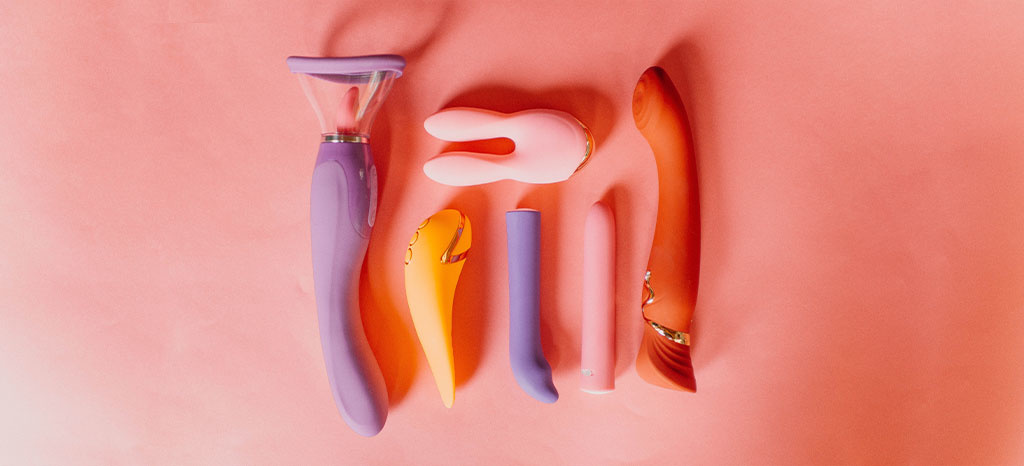 Two episodes into a Netflix binge of Tidying Up With Marie Kondo, I'd become one of the millions of people strolling through their apartments, holding up cheese graters, umbrellas, dildos—earnestly asking, "Does this spark joy?"
Two episodes into a Netflix binge of Tidying Up With Marie Kondo, I'd become one of the millions of people strolling through their apartments, holding up cheese graters, umbrellas, dildos—earnestly asking, "Does this spark joy?" 
At the time, I owned exactly four sex toys, collected over the past decade. Two of them sparked something more like extreme discomfort, low-key rage, and buyer's remorse. I hadn't replaced them because toys can be expensive and hard to file under "needs" in my budgeting app. 
And yet. 
This is a quality of life issue, I thought, holding the half-dead rabbit I'd bought after Sex and the City said it so good it could make a woman give up men. I noted the wheezing, half-dead motor, the discolored silicone separating from the handle, the sliding controls that only worked intermittently. "Time to KonMari this shit," I said, dumping it ceremoniously in the trash with a hushed, "Thank you." 
Honestly, I  never liked that the dildo part twirled around inside my body—like, why? My G-spot isn't five inches up my vaginal canal, and if it were, it wouldn't enjoy that kind of stimulation. Maybe it was designed to try to get at the A-spot? All I know is, it never really worked for me. The spinning beads at its base felt great, but unless I was in the mood for deep penetration (sometimes, not always), I couldn't enjoy them. The rabbit ears were, in a word, divine—but unless the dildo was in twirling mode, their fluttering automatically ramped up to an intensity that felt downright aggressive. Numbing. And there wasn't an option to start with a lighter tease. 
I didn't have any interest in giving up men, but I also knew there were better toys—and better technologies—out there that could bring me, by way of the clitoris and G-spot, significantly more joy. So I set out to find them.
Rabbit, Improved
I've got two words for you: Fun Factory. First, I went for the Stronic Real, because I'd never tried a thruster, I thought I didn't like internal vibration, and several friends swore by it for solo and partner play—especially as an aid to oral. On the plus side, it's my favorite size, it's quiet, it's got a lovely heft, and the thrusting feels fucking fantastic—stimulating the internal "legs" of the clit. It promises and delivers penetrative sex "as long and hard as you want it." The downside? That's not always what I want. 
Enter LADY BI, and the revelation that I don't hate a vibrating dildo—I just hated every one I'd tried before. Turns out my G-spot likes some gentle pressure before there's any movement (a thing I'd recently learned from a Tantra educator). Then it likes slow-building, ever-increasing stimulation, with varying rhythms and intensities...and Oh My God, people. The long, firm, flexible shaft and deep, rumbly vibe are everything I've ever wanted for a G-spot orgasm—plus there's a separate motor on the bud that stimulates the clit and pubic mound and all I can say is YES—1,000 times yes. 
Partner Toy Revamp
The most fun I've ever had with a partner toy was with a $15 remote-controlled vibrating cock ring. The ring itself didn't vibrate, but it held a silver bullet that nestled gloriously into my clit and left our hands free to roam. It didn't matter that my then boyfriend and I kept getting tangled up in the cord or that the bullet always gave out within a month of purchase. The replacement cost seemed like nothing—until I added up how many times we'd replaced it. 
For the same price of all those cheap, unreliable toys we could've bought a We-Vibe Pivot—a waterproof, cordless, rechargeable vibrating cock ring that gives him (whoever he turns out to be) that longer-harder-longer feeling and me the rumbly clitoral vibrations I prefer. I'm still waiting for a partner who wants to play with this one; in the meantime, it's making friends with that Stronic Real thruster I liked but didn't love like the LADY BI. 
Just the Clit
The third of my four original sex toys is the Je Joue Mimi, a waterproof clitoral vibe that's also fun for low-key anal play or perineal stimulation. I initially bought it because I like a bath toy and I like to keep it simple in there; I have zero interest in underwater penetration when I'm just trying to lie back, listen to Otis Redding, and forget for a minute that the world's on fire. 
But there are days I'm too lazy to even hold a vibrator in my hand. And on those days, when I just want to have it done to me, I go all in for the Womanizer—which I wrote about here—or, if I'm not in the bath, the We-Vibe Moxie, a panty vibe with 10 different vibration modes, adjustable intensity, and a handheld remote. I love this as a solo toy, but it also works (theoretically) via an app so a partner, from anywhere in the world, can control your experience and communicate via chat or video. My virtual sexcapade was a comic disaster (TL;DR—great toy, glitchy app), but I'm checking back on the regular for updates.
Butt Stuff
The older I get, the better lovers I have and the more I realize that I actually am into anal play—on a case-by-case basis. What toy? What appendage? What partner? Everything depends on those variables. My first foray into anal toys was the slimmest plug I could find. I just wanted to know: Is an orgasm really that much better when you plug it up? It Is Decidedly So—for me, anyway. The thing is, I never reached for that toy after my first go-round, even though it was always within reach. 
What changed everything was a recent date with Rockefeller Center. We walked into our hotel room, he poured me a glass of bourbon he knows I love but can't afford, and dropped a large glass anal plug into a bucket of ice. "Something for later," he said. 
One stiff drink, two orgasms, and an hour later, I told him I was ready to play. "I'm just going to hold it for you," he said, moving behind me with the toy, now ice cold, and a generous squeeze of lube. "I won't move. You're in control. Take as much as you want. Stop whenever." The cold glass on my skin made me shiver with pleasure, as did the sleek, graduated shape of the toy. I immediately realized why "smooth as silicone" isn't a saying and I vowed to toss that original plug the second I got back home. Sure, it had brought me some pleasure, once. But the glass brought breathless, toe-curling joy. 
"Who knew?" I asked, eyes wide, afterward—both of us spent in the tangle of sheets. "I think a lot of people know," laughed Rockefeller. "But I'm glad I could help." He got up to pour us a second drink, then laid down beside me again, gathering strength for the second round.