Posted on
By Lovers
Posted in anal, Anal Sex, cooling, creams, flavored, gels, hybrid, Lube, Lubricant, Masturbation, oral, oral sex, sex, sex toy, Silicone, vibrator, warming, water-based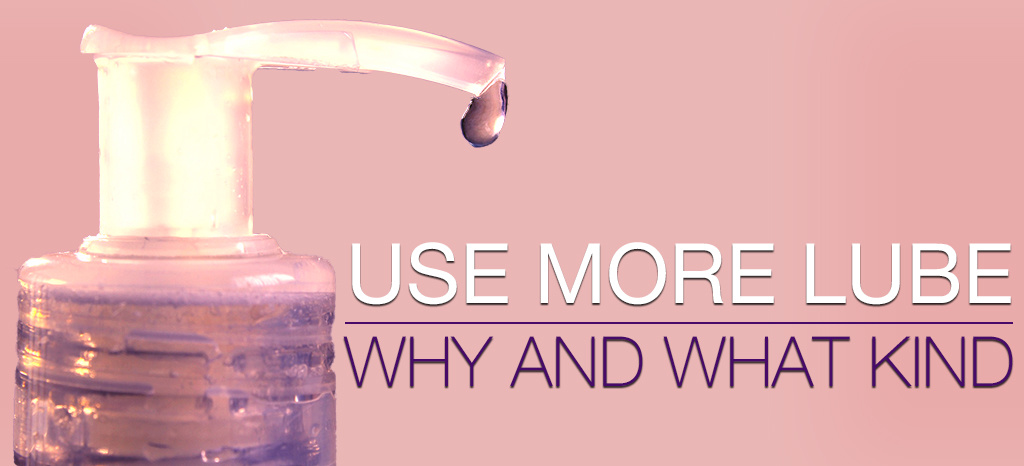 Lube, lube, and more lube! We always encourage using more lube, no matter how you enjoy sex. Here are some reasons why, and what kind you should use.
Friction is fun, but too much can hurt. That's why we love lube - the more, the merrier! For many, there is still some mystery as to why they should need to use any type of lubricant. Here are 6 ways we love using lubricants.
1.) Putting on a condom
Condoms are incredibly important to use when engaging in any sexual activity. They prevent the spread of STIs and can help prevent unwanted pregnancies. Not only the use of a condom is important, but knowing how to put one on is as well. And it's not just what you may have learned in your high school health class.
Many times, you aren't taught how to apply lube when putting on your condom. Many condoms now have a small amount of lubricant on them already to make this process easier, but not all condoms have lube already on them. Apply a small amount of lubricant to yourself, and slowly slip the condom on yourself. We recommend a water-based lubricant, so it doesn't compromise the integrity of the latex that most condoms are made of. Then, after the condom is on, apply some more to prevent any tearing while you're gettin' it on!
2.) During oral sex
When someone thinks about oral sex, they normally don't think of using a lubricant. Which makes sense since your mouth does most of the lubricating. Many don't think about all the different fun flavors you can enjoy when going down on your partner.
We love the line of flavored lube by Sensuva. With flavors ranging from fresh and fruity to deep and delicious, the possible combinations are endless! The only question remaining is, what concoction will you create?
3.) Makes masturbating that much better
When you feel the need to get in touch with yourself, grab some lube first. It can immediately change the sensations when you start out. If you enjoy manual stimulation, we recommend a silicone lubricant - it will last as long as you do! And if you want to enjoy some vibes from your favorite toy, use a water-based or hybrid lubricant.
4.) Makes anal play feel amazing (and safer)
It may be taboo, but it feels oh, so good! Anal is a favorite way to play for many, but it's important to know how to enjoy. A hybrid or thick water-based lube are both great to use. Since the anal cavity does not self-lubricate, not only does lubricant make it safer, but can enhance your orgasm!
5.) Enhance orgasms
Sometimes, you need a little kick to get your juices flowing. That's why we love warming and cooling lubricants! The combination of ice and heat can make for an erotic encounter that you'll want to have again and again. We love Insane Arousal Warming Gel and Wicked H2O Jelle - Cool.
6.) Can arouse different erogenous zones
Lube doesn't just make playtime slick and sweet. There are specific lubricants out there for arousing specific erogenous zones; clitoral gels, nipple creams, and g-spot serums to name a few. Combine those with a vibrator and get ready for back-arching orgasms!