BOGO 50% on Select Toys, Lube, and Kink!
1.800.447.2993
Womanizer Duo
Womanizer Duo
Information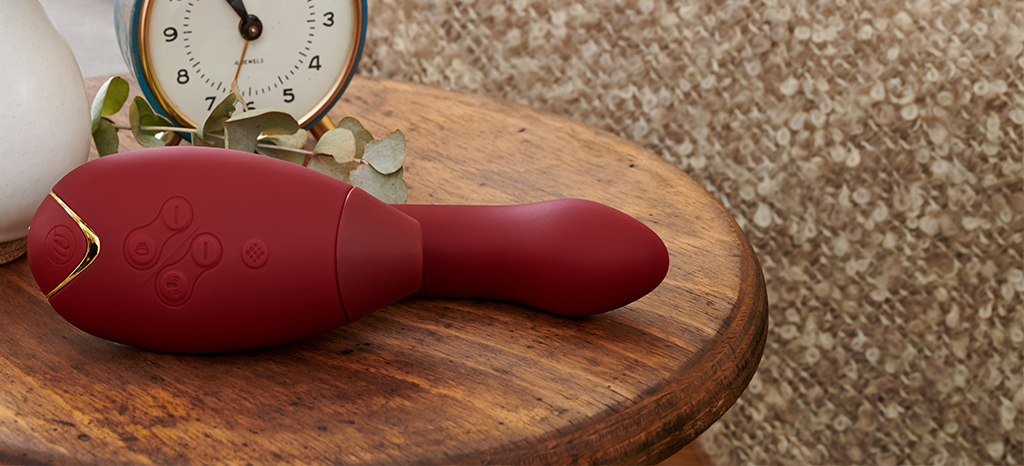 Two is always better than one!
Combining the tantalizing dual stimulation of the Womanizer InsideOut, SmartSilence technology of the Womanizer Premium, with vibration power that measures up to the coveted We-Vibe Tango, Womanizer has released their latest and greatest - the Womanizer Duo!

This is the dual stimulation we have all been searching for! With 12 intense Pleasure Air Technology setting for your clitoral stimulator and 10 tantalizing vibration patterns for your g-spot pleasure, you have over 120 pleasure settings! Try some individual love play - you can switch between captivating clitoral stimulation and a back-arching g-spot massage to give you the best scream-worthy orgasm. 

The Duo comes complete with a USB cord for charging. You can play for up to 2 hours on a single charge, and there are changeable clitoral stimulator heads for your best fit. This toy is also completely waterproof, so your steamy shower just became that much more enjoyable!
Features: 
Ideal for blushing beginners to erotic experts
Optimal dual stimulation
12 Pleasure Air clitoral stimulator settings
10 vibration patterns for g-spot stimulator
120 pleasure patterns
Can alternate between clitoral and g-spot stimulation
USB Rechargeable
Waterproof
Made of high-quality silicone
Measures: 3.5 in x 8 in x 2.3 in 
100% Waterproof
Water-based lubricant safe
Please Note: Womanizer products are not eligible for any dollar or percentage off discounts.
4.65
stars based on
3
reviews
I liked the Womanizer and personally like some inside stimulation, so getting the Womanizer Duo seemed like the next good step!
It's basically hands free, and you are Stuck right there in the zone when it's inside, no squirming away from the air pulsations. My only note would be that for some, it's a bit stiff, and maybe the curve of it feels a bit weird pressing too hard against the g-spot.
I'd say if you like deep inside stimulation, you might not get that effect, but if you like g-spot centered pleasure with Amazing air pulsation on your clitoris, this is Definitely the toy for you.
Nox
k, I'm a believer. I've read so much about Womanizer the past few years but I never took the plunge & bought one because I really need internal stimulation. This double action toy is amazing. I totally get why people love the Womanizer so much. It really feels amazing... like no other product. Couple that with the internal vibration and I was over the top in no time. Instant orgasms for me. I love it!
Andi
My lover bought me this Womanizer and from the very first time I used it my sexual experiences changed. I have been told my g-spot is larger than most. I am lucky at how sensitive it is. Combining the 10second Orgasm Just the clitoris stimulation part of this toy gave me, adding the G-Spot stimulation was the duo approach that took me to the next level. If I told you how many full-on Orgasms I had in an hour and a half, no one would believe me. But believe me it was new age unbelievable numbers. Almost a Cum on demand feeling. Sex has never been this wild, this erotic and this pleasurable and I am almost 70 and still feel hotter than possible. This toy is Revelational. Try it, or even the clitoris stimulators are totally amazing and will drive most woman to Orgasms beyond belief. Trust me, Orgasm starts with clitoris stimulation and goes to greatness with G-Spot Stimulation.
SE